Calendar of Events
Monday, January 21, 2019
Dr. Martin Luther King, Jr. Commemorative Commission 2019 Events
January 16, 2019 — January 21, 2019
Category: Exhibitions & visual art, Festivals & special events, Free event, History & heritage, Kids & family and Music
In 2019 we will observe our 37th Annual King Week Celebration. Our 2019 theme, The Courage to Lead with a Greater Determination , is attributed to the Dream and the Dreamer who affirmed, "If you Can't Fly, then Run, if you Can't Run, then Walk; if you Can't Walk, then Crawl; but whatever you do, you have to keep moving forward". Since 1982, the MLK Commission has been organizing a special celebration each year for the Knoxville area to commemorate the life and legacy of Dr. Martin Luther King, Jr. The weeklong celebration focuses on providing education and leadership training for adults and youth and promotes reconciliation through peaceful conflict resolution. Part of the celebration also includes stories of racial struggles with emphasis on non-violence, equality, and love.
Wednesday, January 16, 12pm - 1pm
INTERFAITH PRAYER SERVICE
Thursday, January 17
8:30am - 11:30am - LEADERSHIP EDUCATIONAL SYMPOSIUM
12pm - 2pm - LEADERSHIP/AWARDS LUNCHEON
Friday, January 18, 7pm - 8:30pm, COMMUNITY FORUM – OAK RIDGE ENVIRONMENTAL PEACE ALLIANCE
Saturday, January 19
8:30am - 2pm - YOUTH SYMPOSIUM & TEACHER IN-SERVICE TRAINING
12:30pm - 2:30pm - Y.W.C.A. RACE AGAINST RACISM
Sunday, January 20
6pm - 8pm - Night With the Arts Tribute/KSO

Monday, January 21
8:30am (Line-Up) - Parade Begins 10am Service Begins at the Conclusion of the Parade
MEMORIAL TRIBUTE SERVICE
The Outpost: Upcoming Shows
November 1, 2018 — March 30, 2019
Category: Music
Coming to Happy Holler this November, it'll be open for just five months, so we're going to put as much awesome stuff in there as we can before it's gone forever! You can read more about how this came about in this article in the Knoxville News Sentinel as well as this article in Inside Of Knoxville.
https://www.knoxnews.com/story/entertainment/music/2018/10/03/new-knoxville-popup-music-venue-outpost-announced/1511021002/
https://insideofknoxville.com/2018/10/new-pop-up-concert-series-announced/
With the new venue, we are already off and running announcing shows. We already have tickets on sale for our first five shows plus, you can register (for free) to come to our grand opening event!
• firekid on Thursday, November 1st
• Strung Like a Horse on Friday, November 2nd
• Hardcastle on Saturday, November 3rd
• Free Grand Opening Event With Music From Jubal on Friday, November 9th
• William Wild on Friday, November 16th
• Vacation Manor on Thursday, November 29th
And more! Open through March 2019 at 109 W. Anderson Avenue, Knoxville, TN 37917. http://knoxvillemusicwarehouse.com/the-outpost
Union Ave Books: Upcoming Events
January 1, 2018 — December 31, 2019
Category: Free event, Literature & readings and Music
Upcoming events:
Lorraine by Ketch Secor - Wednesday, January 16th @ 6pm
Old Crow Medicine Show founder and Grammy award-winning musician Ketch Secor teams up with Ashley Bryan Award-winning illustrator Higgins Bond to create this sweeping, epic Americana story about the power of music and family.
Whispers by Greg Howard - Friday, January 18th @ 6pm
A middle grade debut that's a heartrending coming-of-age tale, perfect for fans of Bridge to Terabithia and Counting By 7s. Eleven-year-old Riley believes in the whispers, magical fairies that will grant you wishes if you leave them tributes. Riley has a lot of wishes.
All in the Decade by Jim McKairnes - Sunday, Jan 20, 2 PM
At some point between Watergate and The Love Canal, between Nixon and Carter, between Vietnam and Afghanistan, between POWs and Americans Held Hostage, between Robert Altman and Steve Martin, between The Supremes and The Ramones, between Helen Reddy and Blondie, between Joe Namath and Pete Rose ...
For more information on all our events, visit our website.
Free and open to the public. UNION AVE BOOKS, 517 Union Avenue, Knoxville, TN 37902. Information: 865-951-2180, www.unionavebooks.com
Maple Hall Mondays with WDVX
August 21, 2017 — December 31, 2019
7-9 PM
Category: Free event and Music
A weekly event on Mondays, 7-9 PM. Sponsored by WDVX and hosted by Will Carter.
MAPLE HALL is a boutique 11-lane bowling alley located in the historic J.C. Penney building in the heart of downtown Knoxville, Tennessee. We offer a full-service bar, small plates, cozy lounge areas, a live stage and a 2-lane private VIP room. We are a spirited bowling experience that can host every kind of party. Maple Hall, 414 S Gay Street, Knoxville, TN 37902. Information: 865-249-8454, www.maplehallknox.com
WDVX: Blue Plate Special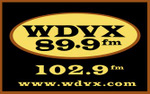 March 6, 2017 — December 31, 2019
Category: Free event and Music
Just like at your favorite meat n' three, the WDVX Blue Plate Special® is served up piping hot. This fresh and free daily helping of live music during the lunchtime hour that features performers from all over the world and right here in Knoxville has put WDVX on the map as East Tennessee's Own community supported radio.
The WDVX Blue Plate Special® is a live performance radio show held at noon, with your host Red Hickey Monday through Friday and Doug Lauderdale on Saturday, at the WDVX studio inside the Knoxville Visitor Center. It's always free to join in so please don't be shy. Make yourself at home as part of the WDVX family. From blues to bluegrass, country to Celtic, folk to funk, rockabilly to hillbilly, local to international, it all part of the live music experience on the WDVX Blue Plate Special. You're welcome to bring your lunch.
Previous performing artists include Bela Fleck and the Flecktones, The Avett Brothers, Old Crowe Medicine Show, Doyle Lawson and Quicksilver, Ricky Skaggs and Kentucky Thunder, Jim Lauderdale, Marty Stuart, Nickel Creek, Red Stick Ramblers, Rodney Crowell, String Cheese Incident, The Del McCoury Band, Tim O'Brien, Yonder Mountain String Band, David Grisman, Claire Lynch Band, Brett Dennen, Tommy Emmanuel, Uncle Earl, The Infamous Stringdusters, the Jerry Douglas Band, Joan Osborne, John Oats, Mary Gauthier, Darrell Scott, and many many more! There's plenty of great music to go around! http://wdvx.com/program/blue-plate-special/
Free 2-hour visitor parking located next door to the Knoxville Visitor Center. One Vision Plaza, 301 S. Gay Street, Knoxville, TN 37902. Info: 865-544-1029, http://www.wdvx.com
Knoxville Contra Dancers at the Laurel Theater
January 1, 2014 — December 31, 2019
Contra dancing to live acoustic music. No experience or partner required. Dances are held every Monday night at 8:00 PM. Cost: $7. Call: 865-599-9621.
At the Laurel Theater, 1538 Laurel Ave, Knoxville, TN 37916. For information: 865-522-5851, www.jubileearts.org.