Calendar of Events
Wednesday, August 21, 2019
Bijou Theatre: Lianne La Havas
Category: Music
Knoxville Civic Auditorium: PAW Patrol Live!
August 20, 2019 — August 21, 2019
Category: Kids & family and Music
No job is too big, no pup is too small! Nickelodeon and VStar Entertainment Group present PAW Patrol Live! "Race to the Rescue," an action-packed, music-filled production, presented by Pedigree will visit Knoxville Civic Auditorium, August 20-21, 2019.
It's the day of the Great Adventure Bay Race between Adventure Bay's Mayor Goodway and Foggy Bottom's Mayor Humdinger, but Mayor Goodway is nowhere to be found. PAW Patrol to the rescue! Ryder summons Marshall, Chase, Skye, Rubble, Rocky, Zuma and Everest to rescue Mayor Goodway and to run the race in her place. Using their unique skills and teamwork, the pups show that "no job is too big, no pup is too small," and share lessons for all ages about citizenship, social skills and problem-solving as they make several heroic rescues on their race to the finish line.
Knoxville Civic Auditorium and Coliseum, 500 Howard Baker Jr Blvd, Knoxville, TN 37915. Information: www.knoxvillecoliseum.com
Union Ave Books: Upcoming Events
January 1, 2018 — December 31, 2019
Category: Free event, Literature & readings and Music
Reading with Linda Parsons and Pauletta Hansel
Sunday, August 18, 2 pm
This reading follows our poetry workshop the previous day for caregivers of loved ones with Alzheimer's/dementia, sponsored by the Knoxville Writers' Guild and the Alzheimer's Association. (If you're interested in the workshop, please register at knoxvillewritersguild.org.) At UAB, Pauletta will read from her Weatherford Award-winning collection, Palindrome, and I from my new collection, Candescent, both of us writing through our journey as caregivers to our mother and father, respectively. We'll share lighter fare as well!
Linda Parsons "solo launch" for Candescent
September 29 at UAB
Pauletta Hansel is the former Poet Laureate of Cincinnati. She publishes widely and is managing editor of Pine Mountain Sand & Gravel, the literary publication of Southern Appalachian Writers Cooperative. She has served as Writer-in-Residence at Thomas More College in Kentucky and leads writing workshops and retreats in the Greater Cincinnati area and beyond. Palindrome, Hansel's sixth collection, is brave and brilliant. The vision of its title—a word that spells itself in both directions—infuses the whole with understanding that, as she was her mother's daughter, so she has become mother to the child who is her mother suffering dementia. Whether writing in fixed forms, free forms, or from her mother's written memories, Hansel creates a way to bear her readers, her mother, and herself though this harrowing time. This is a hard-won, heart-won book. —George Ella Lyon
Linda Parsons coordinates WordStream, WDVX-FM's weekly reading series, with Stellasue Lee and is the reviews editor at Pine Mountain Sand & Gravel. She publishes widely and is the copy editor for Chapter 16, Humanities Tennessee's literary website. She also serves as playwright-in-residence for The Hammer Ensemble, the social justice wing of Flying Anvil Theatre in Knoxville. [In Candescent,] Linda Parsons honors grief. She shares with us her knowing that as the threads of our lives unravel, so too, gifts materialize in ways we never dreamed. Here, trauma is transformed into a journey of enlightenment. We come to understand that what first appears as a door marked "Loss," the author walks through victorious, fully revitalized, with a flare of capriciousness. She finds a new depth of being, and joy in every breath taken. —Stellasue Lee
For more information on all our events, visit our website. Free and open to the public. UNION AVE BOOKS, 517 Union Avenue, Knoxville, TN 37902. Information: 865-951-2180, www.unionavebooks.com
WDVX: Blue Plate Special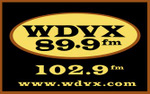 March 6, 2017 — December 31, 2019
Category: Free event and Music
Just like at your favorite meat n' three, the WDVX Blue Plate Special® is served up piping hot. This fresh and free daily helping of live music during the lunchtime hour that features performers from all over the world and right here in Knoxville has put WDVX on the map as East Tennessee's Own community supported radio.
The WDVX Blue Plate Special® is a live performance radio show held at noon, with your host Red Hickey Monday through Friday and Doug Lauderdale on Saturday, at the WDVX studio inside the Knoxville Visitor Center. It's always free to join in so please don't be shy. Make yourself at home as part of the WDVX family. From blues to bluegrass, country to Celtic, folk to funk, rockabilly to hillbilly, local to international, it all part of the live music experience on the WDVX Blue Plate Special. You're welcome to bring your lunch.
Previous performing artists include Bela Fleck and the Flecktones, The Avett Brothers, Old Crowe Medicine Show, Doyle Lawson and Quicksilver, Ricky Skaggs and Kentucky Thunder, Jim Lauderdale, Marty Stuart, Nickel Creek, Red Stick Ramblers, Rodney Crowell, String Cheese Incident, The Del McCoury Band, Tim O'Brien, Yonder Mountain String Band, David Grisman, Claire Lynch Band, Brett Dennen, Tommy Emmanuel, Uncle Earl, The Infamous Stringdusters, the Jerry Douglas Band, Joan Osborne, John Oats, Mary Gauthier, Darrell Scott, and many many more! There's plenty of great music to go around! http://wdvx.com/program/blue-plate-special/
Free 2-hour visitor parking located next door to the Knoxville Visitor Center. One Vision Plaza, 301 S. Gay Street, Knoxville, TN 37902. Info: 865-544-1029, http://www.wdvx.com
WDVX: Tennessee Shines
January 4, 2017 — December 18, 2019
Category: Music
WDVX's Katie Cauthen and guest hosts celebrate East Tennessee's musical and broadcasting heritage by featuring top-notch musicians from near and far, interviews, spoken-word artists, and other surprises.
Join WDVX for Tennessee Shines Radio Show live at 7 PM every Wednesday night from Boyd's Jig & Reel in the Old City. The radio broadcast is 7-8pm, but the live music continues on until 8:30pm at Boyd's. Calendar of performers: https://wdvx.com/calendar/category/tennessee-shines/
Tickets are $10, $5 with a student ID at the Boyd's Jig and Reel door or on online. Boyd's Jig and Reel, 101 S. Central St, Knoxville, TN 37902. Information: 865-544-1029, www.wdvx.com
Knoxville Swing Dance Association: Weekly Dance at the Laurel Theater
January 1, 2014 — December 31, 2019
Category: Classes & workshops, Dance and Music
The KSDA hosts weekly Swing dances every Wednesday at the Laurel Theater in Fort Sanders. $3 admission (only $2 for students!) includes lessons at 7:00 PM and open dance at 8:00 PM. No dance experience or partner necessary.
Contact us at: 865-224-6830, swingdanceknoxville@gmail.com, or www.swingknoxville.org, or follow us @KnoxSwingDance
At the Laurel Theater, 1538 Laurel Ave, Knoxville, TN 37916.