Calendar of Events
Wednesday, March 20, 2019
Big Ears Festival Presents: Lucy Negro Redux
March 20, 2019 — March 21, 2019
Nashville Ballet: Lucy Negro Redux
On March 20, 2019, 7:30PM, the Nashville Ballet performs Lucy Negro Redux at the Tennessee Theatre.
It is a long-running Shakespeare debate: Who is the "Dark Lady" he describes with such lust and longing in his sonnets? Various scholars have pursued the question over the years, whittling down the possibilities to select candidates of Mediterranean origin. But in her compelling 2015 collection of poetry called Lucy Negro, Redux, Nashville writer Caroline Randall Williams took a more literal (and, for some, more controversial) approach by identifying the Dark Lady as someone of African descent. She gave personality and meaning to Shakespeare's muse, developing her as a person and not just as the bard's spark.
In Lucy Negro Redux, the Grammy-winning singer-songwriter, Carolina Chocolate Drops cofounder, Big Ears veteran, and Nashville and Broadway actress Rhiannon Giddens uses Williams' work as the springboard for a full ballet that explores ideas of love and equality in a world that does not make them easy. A collaboration with Williams (who narrates the night), The Nashville Ballet, and artistic director Paul Vasterling, Lucy will make its world premiere in Nashville in February 2019. Its second performance happens in Knoxville for Big Ears 2019—fitting, as Giddens pursued the project after texting festival founder Ashley Capps a set of demos inspired by Williams' book. She composed and will perform the score live with her recent collaborator, acclaimed Italian pianist and percussionist Francesco Turrisi. A testament to audacity and vision, Lucy Negro Redux seems destined to stand as a major work from Giddens, a major talent.
This production is recommended for adults due to explicit language and mature themes
Tennessee Theatre, 604 S. Gay Street, Knoxville, TN 37902. For information/tickets: 865-684-1200, www.tennesseetheatre.com, www.ticketmaster.com
Kids in the Arts: Spring Camp
March 18, 2019 — March 22, 2019
Category: Classes & workshops, Exhibitions & visual art, Festivals & special events, Fine Crafts, Kids & family and Music
We offer a kids camp, usually a week long, typically for ages 5-12. We tailor the lessons to multiple ages by working together in whole-group instruction or by splitting up into smaller groups to maximize learning. We spend the day together creating art through various art forms like music, improv games, visual art and dance. We meet-up at the end of the day and share our experiences in a cool down meditative share time.
Our mission is to promote cooperation and the love of learning through art, craft and creativity! Through exploration of self we will find common ground in each other.
Camp will be located at The Birdhouse - 800 N. 4th Ave. from ​9 am to 4 pm.
Ages are from 5-12
Cost is $245 or $65/day
Our Artist Teachers are:
Jasmine Sinclair- Yoga
Alex Pulsipher - Music
​Deborah Davis- Art
​Cynthia Baglin- Art
Dani Flyckt - Art
Julie Fawn Boisseau-Craig - Art
​Karl Hess- Camp Facilitator
Scholarships may be available upon request. https://kidsinthearts.weebly.com/
The Outpost: Upcoming Shows
November 1, 2018 — March 30, 2019
Category: Music
Coming to Happy Holler this November, it'll be open for just five months, so we're going to put as much awesome stuff in there as we can before it's gone forever! You can read more about how this came about in this article in the Knoxville News Sentinel as well as this article in Inside Of Knoxville.
https://www.knoxnews.com/story/entertainment/music/2018/10/03/new-knoxville-popup-music-venue-outpost-announced/1511021002/
https://insideofknoxville.com/2018/10/new-pop-up-concert-series-announced/
With the new venue, we are already off and running announcing shows. We already have tickets on sale for our first five shows plus, you can register (for free) to come to our grand opening event!
• firekid on Thursday, November 1st
• Strung Like a Horse on Friday, November 2nd
• Hardcastle on Saturday, November 3rd
• Free Grand Opening Event With Music From Jubal on Friday, November 9th
• William Wild on Friday, November 16th
• Vacation Manor on Thursday, November 29th
And more! Open through March 2019 at 109 W. Anderson Avenue, Knoxville, TN 37917. http://knoxvillemusicwarehouse.com/the-outpost
Union Ave Books: Upcoming Events
January 1, 2018 — December 31, 2019
Category: Free event, Literature & readings and Music
Upcoming events:
Appalachian Reckoning: A Region Responds to Hillbilly Elegy - Tuesday, 3/12 @ 7pm, Knoxville Museum of Arte
Appalachian Reckoning is a retort, at turns rigorous, critical, angry, and hopeful, to the long shadow Hillbilly Elegy has cast over the region and its imagining. But it also moves beyond Hillbilly Elegy to allow Appalachians from varied backgrounds to tell their own diverse and complex stories through an imaginative blend of scholarship, prose, poetry, and photography.
Alligator Zoo-Park Magic by C.H. Hooks
Wednesday, 3/13 @ 6:00pm
Is Jeffers an Alligator Zoo-Park Magician or the Messiah? Two friends live unapologetically on the edge of poverty in the un-decorous South. Jimmy, a single father, and Jeffers, a magician with tricks closer to miracles. When Jimmy loses his best friend to a trick gone awry, he stumbles to find a footing and what it means to escape.
Silas House - Wilma Dykeman Stokely Memorial Lecture
Thursday 3/14 @ 7:00pm, Knoxville Museum of Art
Best-selling author Silas House will present the 2019 Wilma Dykeman Stokely Memorial Lecture on Thursday, March 14, at 7 p.m. in the Ann and Steve Bailey Hall of the Knoxville Museum of Art (KMA). The event is free and open to the public.
This Atom Bomb in Me by Lindsey Freeman
Saturday 3/16 @ 2:00pm
This Atom Bomb in Me traces what it felt like to grow up suffused with American nuclear culture in and around the atomic city of Oak Ridge, Tennessee. As a secret city during the Manhattan Project, Oak Ridge enriched the uranium that powered Little Boy, the bomb that destroyed Hiroshima. The city was a major nuclear production site throughout the Cold War, adding something to each and every bomb in the United States arsenal. Even today, Oak Ridge contains the world's largest supply of fissionable uranium.
The Garden of Fragile Beings by Carolyn Welch and Dark Roots by Caroline Malone
Sunday 3/17 @ 2:00pm
Carolyn Welch (Scarbrough) is a Tennessee poet residing in Norris, TN (Anderson County). Her poetry has the unique perspective of a health care professional with keen insight into human illness and suffering combined with astute observation of the natural world. Caroline Malone was born and lives in the foothills of the Great Smoky Mountains in East Tennessee. Her poems have appeared in Boulevard, The Dos Passos Review, Women's Voices, Women Period, Heartwood, and others. The collection Dark Roots explores the meaning of family, heritage, and identity.
For more information on all our events, visit our website. Free and open to the public. UNION AVE BOOKS, 517 Union Avenue, Knoxville, TN 37902. Information: 865-951-2180, www.unionavebooks.com
WDVX: Blue Plate Special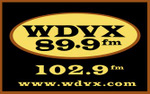 March 6, 2017 — December 31, 2019
Category: Free event and Music
Just like at your favorite meat n' three, the WDVX Blue Plate Special® is served up piping hot. This fresh and free daily helping of live music during the lunchtime hour that features performers from all over the world and right here in Knoxville has put WDVX on the map as East Tennessee's Own community supported radio.
The WDVX Blue Plate Special® is a live performance radio show held at noon, with your host Red Hickey Monday through Friday and Doug Lauderdale on Saturday, at the WDVX studio inside the Knoxville Visitor Center. It's always free to join in so please don't be shy. Make yourself at home as part of the WDVX family. From blues to bluegrass, country to Celtic, folk to funk, rockabilly to hillbilly, local to international, it all part of the live music experience on the WDVX Blue Plate Special. You're welcome to bring your lunch.
Previous performing artists include Bela Fleck and the Flecktones, The Avett Brothers, Old Crowe Medicine Show, Doyle Lawson and Quicksilver, Ricky Skaggs and Kentucky Thunder, Jim Lauderdale, Marty Stuart, Nickel Creek, Red Stick Ramblers, Rodney Crowell, String Cheese Incident, The Del McCoury Band, Tim O'Brien, Yonder Mountain String Band, David Grisman, Claire Lynch Band, Brett Dennen, Tommy Emmanuel, Uncle Earl, The Infamous Stringdusters, the Jerry Douglas Band, Joan Osborne, John Oats, Mary Gauthier, Darrell Scott, and many many more! There's plenty of great music to go around! http://wdvx.com/program/blue-plate-special/
Free 2-hour visitor parking located next door to the Knoxville Visitor Center. One Vision Plaza, 301 S. Gay Street, Knoxville, TN 37902. Info: 865-544-1029, http://www.wdvx.com
WDVX: Tennessee Shines
January 4, 2017 — December 18, 2019
Category: Music
WDVX's Katie Cauthen and guest hosts celebrate East Tennessee's musical and broadcasting heritage by featuring top-notch musicians from near and far, interviews, spoken-word artists, and other surprises.
Join WDVX for Tennessee Shines Radio Show live at 7 PM every Wednesday night from Boyd's Jig & Reel in the Old City. The radio broadcast is 7-8pm, but the live music continues on until 8:30pm at Boyd's. Calendar of performers: https://wdvx.com/calendar/category/tennessee-shines/
Tickets are $10, $5 with a student ID at the Boyd's Jig and Reel door or on online. Boyd's Jig and Reel, 101 S. Central St, Knoxville, TN 37902. Information: 865-544-1029, www.wdvx.com
Knoxville Swing Dance Association: Weekly Dance at the Laurel Theater
January 1, 2014 — December 31, 2019
Category: Classes & workshops, Dance and Music
The KSDA hosts weekly Swing dances every Wednesday at the Laurel Theater in Fort Sanders. $3 admission (only $2 for students!) includes lessons at 7:00 PM and open dance at 8:00 PM. No dance experience or partner necessary.
Contact us at: 865-224-6830, swingdanceknoxville@gmail.com, or www.swingknoxville.org, or follow us @KnoxSwingDance
At the Laurel Theater, 1538 Laurel Ave, Knoxville, TN 37916.