Calendar of Events
Sunday, October 22, 2017
Jody Sims: "My Sanctuary" Photo Exhibition
October 19, 2017 — December 31, 2017
Category: Exhibitions & visual art and Free event
Photographers of all ages – amateur and professional – share their vision of "sanctuary" in this first annual photography exhibition. Participants were asked to consider the definition of sanctuary: "a place of refuge or safety; a sacred place" and what that means to them…Where is your sanctuary? Is it a feeling? Is it a memory? Is it real? Is it imagined?

Over 20 photos are in the exhibition which runs through January 2018. An opening reception will be held on Thursday, October 19 from 6:00-7:30pm. The restaurant will remain open during the reception.

Sanctuary Vegan Café is located at 151 N. Seven Oaks Dr, Knoxville, TN 37922. Contact: Jody Sims, curator, 619-210-4587 or jody@jodysims.com
Arrowmont: Works by Eva Polizzi & Laura Duerwald
October 18, 2017 — December 6, 2017
Category: Exhibitions & visual art, Fine Crafts and Free event
In the GEOFFREY A. WOLPERT GALLERY
Arrowmont School of Arts and Crafts, 556 Parkway, Gatlinburg, TN 37738. Gallery hours are Monday – Friday 9:00 am – 5:00 pm and Saturday and Sunday 10:00 am – 4:00 pm. Information: 865-436-5860, www.arrowmont.org
O'Brien Art Gallery: INEXTERIORS - Paintings by Marcia Santore
October 16, 2017 — November 30, 2017
Category: Exhibitions & visual art and Free event
Opening Reception: Thursday, November 2, 2-5 pm
Inexteriors is a series of paintings by artist Marcia Santore that address ideas of impossible architectural spaces. The series has developed over a number of years and has been inspired by visions of windows through doorways through windows, the patterns of light in interior spaces created by seen or unseen openings, indeterminate interior and exterior spaces, unknown houses seen from within and without, mysterious stairways and hallways and hidden rooms, figures that inhabit (haunt?) those spaces, and the potential for these spaces to tell or conceal multiple, unfolding stories. Some of these paintings are in oil and others in acrylic. Some include collaged elements such as recycled paper.

"As someone who has moved many times, both as a child and as an adult, houses have multiple meanings for me—they are places full of mystery and possibility, suggestive of many potential futures or outcomes."
—Marcia Santore
A portion of the proceeds of sales from this exhibition will be donated to the Oak Ridge Art Center. www.marciasantore.com
O'Brien Art Gallery, Roane State Community College, 276 Patton Lane, Harriman, TN 37748
Tennessee Valley Unitarian Universalist Church: Exhibition by Genie Even and Terri Swaggerty
October 13, 2017 — December 7, 2017
Category: Exhibitions & visual art and Free event
Free and open to the public
Opening reception October 13 from 6 to 7:30 p.m.; artists' talks at 6:30 p.m.
Gallery hours: 10 AM – 5 PM, Monday through Thursday and 10 AM – 1 PM, Sunday
Tennessee Valley Unitarian Universalist Church Gallery, 2931 Kingston Pike, Knoxville, TN 37918
Genie Even's paintings are contemporary realism and include florals, trees, people, animals, and still life. She is drawn to color, the play of sunlight, and reflections. She uses a camera to create reference photos, composing as she shoots. The computer is only for cropping. She enjoys sketching as she develops a composition, stressing or eliminating lines or areas. Even is a graduate of Scripps College in Claremont, California. As an art major, she was privileged to study with an outstanding art faculty. For twenty-five years, transparent watercolor has been her preferred medium. Her watercolor education has been supplemented by quality workshops with nationally known watercolor artists. Her work has been accepted in many national exhibitions. She holds signature memberships in the California Watercolor Association, Watercolor West, the Texas Watercolor Society, and the Tennessee Watercolor Society.

Art is the first passion Terri Swaggerty recalls; it has always been an integral part of her essence and her path. Her painting explores different techniques and subjects. She paints subjects that pique her interest and especially the ones that take her breath away. These subjects are eclectic: nature, older and often kitschy objects, and body language and the energy between people. As she paints, she savor the colors, the composition, and applying the paint to the canvas. Swaggerty is a professional, award-winning photographer and photo re-toucher. Her work has been shown at TVUUC and Tomato Head Restaurant. She has also participated in Artemis Galley in Apalachicola, Florida and in the 2016 Plein Aire Show at Knoxville's Emporium. She was a sidewalk portrait artist at the 1982 World's Fair.
Rala: Sculptural Work by Pippin Long
October 6, 2017 — October 28, 2017
Category: Exhibitions & visual art, Fine Crafts and Free event
Hosted by Rala: Regional and Local Artisans
Rala is proud to introduce new sculptural work by Pippin Long. She is a native Tennessean and a recent graduate of UT Knoxville with a degree in art. She currently lives in Asheville, NC where she spends her time sculpting faces, painting, and hiking with her dog Egon.
Opening reception October 6th from 6-9pm
Rala, 112 W. Jackson Ave, Knoxville, TN 37902. Information: 865-525-7888, https://shoprala.com/
Maryville College: Recent Work by Jennifer Brickey
October 2, 2017 — October 27, 2017
Category: Exhibitions & visual art and Free event
"Full Circle"
Recent Work by Jennifer Brickey
Solo Exhibition
Hosted by Jennifer Brickey, Artist
www.jenniferbrickey.com
CLOSING RECEPTION: Friday, October 27, 6-8 PM
Blackberry Farms Gallery, Maryville College, 502 E Lamar Alexander Pkwy, Maryville, TN 37804
Art Market Gallery: Mary Saylor and Nelson Zeigler
October 1, 2017 — October 31, 2017
Category: Exhibitions & visual art, Fine Crafts and Free event
Recent works by Paper-mache Sculptor Mary Saylor, and Painter Nelson Zeigler will be on display. An opening reception for the featured artists will begin at 5:30 p.m., October 6th, during Downtown Knoxville's monthly First Friday Art Walk. There will be complimentary refreshments.
Nelson Zeigler, of Sevierville, Tennessee in the Smoky Mountains, is a graduate of The Art Institute of Boston and Northwestern Academy of Watercolor. He has won many awards for both his painting and woodturning, both regionally and nationally. Among them, Gold Medal for watercolor at the American Artists Professional League, Honorable Mention-The Artist's Magazine annual competition
He was chosen the Spring Wildflower Pilgrimage artist of the year in 2016. He has participated in numerous juried exhibitions in New York including Allied Artists, American Artists Professional League, Salmagundi Club, Knickerbocker Artists, National Arts Club, Hudson Valley Arts Association, as well as Adirondack National Watercolor Exhibition, Faces of America (a national watercolor portrait show), Academic Artists Association, Springfield Arts League, Springfield, MA, Guild of Boston Artists, Copley Society, Boston, MA, North Shore Arts Association, Gloucester, MA, Tennessee Watercolor Society and Arrowmont School of Arts & Crafts. A member of the National Watercolor Society, New England Watercolor Society, The Oil Painters of America and the Northshore Art Association and the American Association of Woodturners. Nelson's works are in many private and corporate collections throughout the country. www.nelsonzieglerstudio.com
Mary Saylor has been fascinated by all sorts of artistic endeavors from her childhood and was raised by parents who themselves were creative individuals. Mary obtained a Bachelor of Fine Arts degree from Ohio University with a minor in Sculpture and over the years, she has dabbled in various creative outlets including drawing, quilting, painting, woodcarving and clay, but recently has focused on paper mâché sculptures. Mary has a profound love and appreciation of all animals, great and small, and this devotion is clearly seen in her whimsical, humorous animal sculptures. She thoroughly enjoys the process of creating each and every piece and hopes they bring nearly as much happiness and joy to everyone who views them.
Art Market Gallery, 422 S. Gay St, Knoxville, TN 37902. Hours: Tu-Th & Sa 11-6, Fri 11-9, Su 1-5. Information: 865-525-5265, www.artmarketgallery.net
Tomato Head Exhibition: Kathryn Gunn
September 27, 2017 — November 6, 2017
Category: Exhibitions & visual art and Free event
The work of Asheville artist, Kathryn Gunn is a vibrant collection of color, light and reflection that comes from an intuitive place where music and mindfulness mingle with canvas, acrylic, and curiosity. Gunn only recently started painting – in fact, until last year, she thought that she couldn't: "I have always been a lover of art and when I was younger I pursued a career in Art history, but never believed that I could be an artist."
But when she salvaged the remains of a children's tempura paint set, Gunn's artistic interest started her on a path that would lead to art shows and juried events across the southeast even though the beginning of the journey was a very, very private affair that included only one set of eyes: her own.
"I took [the children's' paints] home with me. I just loved mixing colors. I would hide in my basement and paint on cardboard so I could throw them away as soon as I was finished and no one would ever look at anything I did." And even when a friend lured her to a live model drawing event with a promise that the event had "really chill music and you get to drink wine," Gunn only agreed to attend when she was assured that no one would actually see what she had drawn. The event proved to be much more than a pleasant afternoon of wine and song because when her drawing turned out to actually look like the model Gunn was moved to continue to explore her artistic side. Her subsequent experiments with drawing led to more painting and more work with color and form.
Gunn's approach remains intuitive – she adds color based on a sense of what's missing and remains open in terms of style and subject style. "I'm not sure that I've found my niche, and maybe never will as I find the next style and go 'I want to try that out!'"
But her work is certainly informed by nature – in landscapes and even in her abstract and "Flow" works, the colors might leap from the flowers and vistas of the Appalachian Mountains. But more than that, Gunn's work reflects a peaceful beauty, one that's attune to her creative process. When she works, Gunn is absorbed by the present, because, she says, "When I'm painting, I lose myself in the work, lose track of time, forget to eat, completely absorbed, I don't even know that I am sore from standing for hours and hours until I am finished. There is really no separation between me and the painting."
You can get lost in Gunn's paintings, too at the downtown Market Square Tomato Head through October 1st. She will then hang at the West Knoxville Tomato Head from October 3rd through November 6th.
Tomato Head, 12 Market Square (865-637-4067) and 7240 Kingston Pike, Suite 172 (865-584-1075), in Knoxville. http://thetomatohead.com
McClung Museum: Northwest Coast Art: A Community of Tradition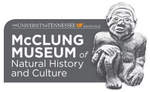 September 8, 2017 — December 31, 2017
Category: Exhibitions & visual art, Fine Crafts, Free event, History & heritage and Science & nature
For thousands of years Northwest Coast Indians including the Coast Salish, Haida, Kwakwa̱ka̱'wakw, Makah, Nuu-chah-nulth, and Tlingit peoples represented in this exhibition, have made art expressing their cultural norms and values with precision, clarity, and artistic exuberance. Using indigenous and trade materials obtained in their homes along the coast of Oregon and north to Alaska, Northwest coast peoples mark elaborate ceremonial life, social rank, and prestige through their objects and art.
This exhibition explores Northwest Coast art through over 60 objects made by known and unknown artists, representing traditional and modern forms of cultural expression. From model totem poles and bentwood boxes, to spoons, prints, and silver bracelets, these objects were created for different purposes––utilitarian, decorative, and ceremonial. What all of them share in common is the desire to preserve and perpetuate Northwest Coast cultural heritage and community.
McClung Museum of Natural History and Culture, 1327 Circle Park Dr on the UT campus, Knoxville, TN 37996. Hours: Monday-Saturday, 9AM-5PM, Sunday, 1-5PM. Information: 865-974-2144, http://mcclungmuseum.utk.edu
South Knoxville Library: Exhibition by Marty Elmer
September 1, 2017 — October 27, 2017
Category: Exhibitions & visual art and Free event
Featuring abstracts by Marty Elmer
South Knoxville Library, 4500 Chapman Highway, Knoxville, TN 37920. (865) 573-1772
Knoxville Museum of Art: American Impressionism - The Lure of the Artists' Colony
August 11, 2017 — November 12, 2017
Category: Exhibitions & visual art and Free event
Drawn from the extensive collection of the Reading Public Museum, this vibrant exhibition examines the key role played by artists' colonies in the development of American Impressionism. It features more than 50 paintings and works on paper by Frank W. Benson, Mary Cassatt, William Merritt Chase, Childe Hassam, Ernest Lawson, William Paxton, Robert Reid, Chauncey Ryder, John Twachtman, Julian Alden Weir, and many others.
Many of the nationally prominent artists represented in this exhibition have ties to East Tennessee and the KMA's ongoing display Higher Ground: A Century of the Visual Arts in East Tennessee. More than a dozen participated in large art exhibitions held in conjunction with Knoxville's 1910 and 1911 Appalachian Expositions, and the 1913 National Conservation Exposition. Their paintings appeared alongside those of several East Tennessee artists represented in Higher Ground, such as Catherine Wiley, Lloyd Branson, Adelia Lutz, Charles Krutch, and Hugh Tyler, to name a few. These sprawling and ambitious exhibitions were designed with the goal of bringing the "best contemporary art in America" to people of the region. The displays highlighted art currents of the day, and allowed East Tennessee artists to demonstrate their proficiency in a national context.
Among other ties, John F. Carlson served as a juror for the 1913 Expo art exhibition along with Knoxville impressionist painter Catherine Wiley. Robert Reid was one of Wiley's art instructors during her studies in New York, and Mary Cassatt's intimate domestic scenes inspired Wiley's career-long interest in depicting women and children. As a result of these and other connections, this exhibition offers a broader national lens through which viewers can assess the work of Wiley, Branson, Lutz, Krutch, Tyler and other Higher Ground artists who also experimented with Impressionism.
Organized by the Reading Public Museum, Pennsylvania. The museum is holding an opening reception Thursday, August 10 from 5:30 to 7:30pm. This event is free and open to the public.
Knoxville Museum of Art, 1050 World's Fair Park Dr, Knoxville, TN 37916. Hours: Tuesday-Saturday, 10AM-5PM, Sunday, 1-5PM. Information: 865-525-6101, www.knoxart.org
East Tennessee History Center: Stories in Stitches
August 7, 2017 — January 2, 2018
Category: Exhibitions & visual art, Fine Crafts and History & heritage
Stories in Stitches: Quilts from the East Tennessee Historical Society's Permanent Collection
East Tennessee families treasure quilts made by their ancestors. Besides warming and decorating the bed, quilts also serve as reminders of important events—births, weddings, service to our country, the death of loved ones. Often, these memories are preserved in notes attached to the quilts or through stories handed down to younger generations. Sometimes notes are lost and memories fade, leaving families with a "mystery quilt." Did Grandma Jones or Granny Smith make this quilt? Or, was it Aunt Jane? When did she make it? Why did she choose this pattern? What caused this stain or that tear? These are some of the mysteries that quilt historians try to address through genealogical research and technical analysis.
From histories handed down to mysteries that remain, the new feature exhibition at the Museum of East Tennessee History provides visitors the opportunity to learn the "stories in stitches" from the quilts that have been entrusted to the East Tennessee Historical Society. Stories in Stitches features more than two dozen quilts with dates ranging from c. 1820 to 2001. The exhibition will be on display in the Rogers-Claussen Feature Gallery of the East Tennessee History Center from August 7, 2017 - January 2, 2018. Stories in Stitches is dedicated to Linda Claussen and Ginny Rogers for their years of service and support of the East Tennessee Historical Society's quilt collection.
When the East Tennessee Historical Society was founded in 1834, early collection efforts focused on books and manuscripts. In more recent decades, objects began to be added, and the idea of displaying them in a museum grew. The ETHS Permanent Collection acquired its first quilt in 1992, one year before the Museum of East Tennessee History opened on the first floor of the renovated Customs House. Now a part of the expanded East Tennessee History Center, the museum and its collection includes more than 100 quilts. The ETHS Permanent Collection focuses on quilts made or used in one of East Tennessee's 35 counties. An acquisitions committee reviews potential additions, evaluating the quilt's history, condition, and importance to the collection as a whole. Some quilts are displayed in the museum's signature exhibition, Voices of the Land: The People of East Tennessee. Others are cared for in climate-controlled storage and are brought out for special events or exhibitions like this one. The exhibition highlights more than two dozen quilts in a variety of fabrics, and patterns, and highlights some of the families who have made and cherished them. Patterns include everything from Rose of Sharon and "Knoxville Crazy Quilt" to a Civil War memory quilt and one pieced together out of clothing labels. The quilters range from John Sevier's wife Bonny Kate to the Smoky Mountain Quilters of Tennessee.
East Tennessee Historical Society, 601 S. Gay Street, Knoxville, TN 37902. Museum hours: M-F 9-4, Sa 10-4, Su 1-5. Information: 865-215-8824, www.easttnhistory.org