Calendar of Events
Wednesday, September 20, 2017
East Tennessee History Center: The Freedom Engine: East Tennessee Remembers 9/11
September 8, 2017 — September 17, 2018
Category: Exhibitions & visual art and History & heritage
Visitors to the Museum of East Tennessee History will have an opportunity to view special items associated with the "Freedom Engine," a tribute gift from East Tennesseans to New York City following the events of September 11, 2001. East Tennesseans contributed more than $940,000 to purchase and equip a 95-foot tower ladder truck for Harlem-based Ladder Company 14, helping the New York City Fire Department (FDNY) replenish the largest vehicles in the city's firefighting fleet. The so-called "Freedom Engine," went into service during March 2002 and was dedicated on September 11th of that year.
FDNY typically retires their trucks from regular service after about 10 years. The Freedom Engine went into reserve status in 2013. Upon retirement, several artifacts associated with the truck, including a bucket door, captain's helmet, memorial plaque from the people of East Tennessee, and a presentation plaque containing a piece of World Trade Center metal, were returned to East Tennessee and donated to the East Tennessee Historical Society. These items will be on display through September 8-17, 2017, at the Museum of East Tennessee History, along with a video about the project. You may view the exhibit and artifacts online at the ETHS website at www.easttnhistory.org/exhibits/freedom-engine.
The Museum of East Tennessee History is open 9:00 am to 4:00 pm, Monday through Friday; 10:00 am to 4:00 pm, Saturday; and 1:00 pm to 5:00 pm, Sunday. The Museum is located in the East Tennessee History Center, 601 South Gay Street, Knoxville, TN 37901. There is an admission charge, Monday-Saturday, with each Sunday being Family Day and free to the public. For more information call (865) 215-8830, email eths@eastTNhistory.org, or visit www.easttnhistory.org.
McClung Museum: Northwest Coast Art: A Community of Tradition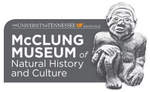 September 8, 2017 — December 31, 2017
Category: Exhibitions & visual art, Fine Crafts, Free event, History & heritage and Science & nature
For thousands of years Northwest Coast Indians including the Coast Salish, Haida, Kwakwa̱ka̱'wakw, Makah, Nuu-chah-nulth, and Tlingit peoples represented in this exhibition, have made art expressing their cultural norms and values with precision, clarity, and artistic exuberance. Using indigenous and trade materials obtained in their homes along the coast of Oregon and north to Alaska, Northwest coast peoples mark elaborate ceremonial life, social rank, and prestige through their objects and art.
This exhibition explores Northwest Coast art through over 60 objects made by known and unknown artists, representing traditional and modern forms of cultural expression. From model totem poles and bentwood boxes, to spoons, prints, and silver bracelets, these objects were created for different purposes––utilitarian, decorative, and ceremonial. What all of them share in common is the desire to preserve and perpetuate Northwest Coast cultural heritage and community.
McClung Museum of Natural History and Culture, 1327 Circle Park Dr on the UT campus, Knoxville, TN 37996. Hours: Monday-Saturday, 9AM-5PM, Sunday, 1-5PM. Information: 865-974-2144, http://mcclungmuseum.utk.edu
Farragut Museum: "Vintage Kitchen" Exhibit
September 5, 2017 — January 5, 2018
10:00AM-4:30PM, M-F
Category: Free event and History & heritage
The Farragut Museum invites the community to visit our new special exhibit, The Vintage Kitchen. This exhibit will open on Tuesday, Sept. 5, 2017, and will be on display through Friday, Jan. 5, 2018 (closed Dec. 24 and 25). This special exhibit will feature items from the Museum's collection of artifacts as well as items belonging to Museum Committee members.

The exhibit showcases a variety of antique, everyday kitchen items including plates, platters, waffle makers and more. A featured item is an antique stove that was previously housed in the Campbell Station Inn. Early metal stoves were used for laundry, heating, and cooking. Don't miss this opportunity to see these fascinating vintage kitchen items!

The Farragut Museum is committed to preserving the heritage of its East Tennessee community and features a remarkable collection of artifacts from the area, including an extensive collection of the personal belongings of Admiral David Glasgow Farragut, first Admiral of the U.S Navy and hero of the Civil War.
Housed in Farragut Town Hall located at 11408 Municipal Center Drive, the museum is open Monday through Friday from 10 a.m. to 4:30 p.m. and offers free admission. For more information about the museum or the exhibit, please visit www.townoffarragut.org/museum or contact Historic Resources Coordinator Julia Barham at jbarham@townoffarragut.org or 218-3377.
East Tennessee History Center: Stories in Stitches
August 7, 2017 — January 2, 2018
Category: Exhibitions & visual art, Fine Crafts and History & heritage
Stories in Stitches: Quilts from the East Tennessee Historical Society's Permanent Collection
East Tennessee families treasure quilts made by their ancestors. Besides warming and decorating the bed, quilts also serve as reminders of important events—births, weddings, service to our country, the death of loved ones. Often, these memories are preserved in notes attached to the quilts or through stories handed down to younger generations. Sometimes notes are lost and memories fade, leaving families with a "mystery quilt." Did Grandma Jones or Granny Smith make this quilt? Or, was it Aunt Jane? When did she make it? Why did she choose this pattern? What caused this stain or that tear? These are some of the mysteries that quilt historians try to address through genealogical research and technical analysis.
From histories handed down to mysteries that remain, the new feature exhibition at the Museum of East Tennessee History provides visitors the opportunity to learn the "stories in stitches" from the quilts that have been entrusted to the East Tennessee Historical Society. Stories in Stitches features more than two dozen quilts with dates ranging from c. 1820 to 2001. The exhibition will be on display in the Rogers-Claussen Feature Gallery of the East Tennessee History Center from August 7, 2017 - January 2, 2018. Stories in Stitches is dedicated to Linda Claussen and Ginny Rogers for their years of service and support of the East Tennessee Historical Society's quilt collection.
When the East Tennessee Historical Society was founded in 1834, early collection efforts focused on books and manuscripts. In more recent decades, objects began to be added, and the idea of displaying them in a museum grew. The ETHS Permanent Collection acquired its first quilt in 1992, one year before the Museum of East Tennessee History opened on the first floor of the renovated Customs House. Now a part of the expanded East Tennessee History Center, the museum and its collection includes more than 100 quilts. The ETHS Permanent Collection focuses on quilts made or used in one of East Tennessee's 35 counties. An acquisitions committee reviews potential additions, evaluating the quilt's history, condition, and importance to the collection as a whole. Some quilts are displayed in the museum's signature exhibition, Voices of the Land: The People of East Tennessee. Others are cared for in climate-controlled storage and are brought out for special events or exhibitions like this one. The exhibition highlights more than two dozen quilts in a variety of fabrics, and patterns, and highlights some of the families who have made and cherished them. Patterns include everything from Rose of Sharon and "Knoxville Crazy Quilt" to a Civil War memory quilt and one pieced together out of clothing labels. The quilters range from John Sevier's wife Bonny Kate to the Smoky Mountain Quilters of Tennessee.
East Tennessee Historical Society, 601 S. Gay Street, Knoxville, TN 37902. Museum hours: M-F 9-4, Sa 10-4, Su 1-5. Information: 865-215-8824, www.easttnhistory.org