Calendar of Events
Friday, July 21, 2017
Knox Heritage: Lost & Found Luncheon with Catherine Shteynberg
Category: Free event, History & heritage and Lectures
"Lost and Found" luncheon lecture with curator Catherine Shteynberg at the office of Knox Heritage, Historic Westwood, 3435 Kingston Pike, at 11:30 a.m. Parking is free next door at the Laurel Church of Christ. The free lunch buffet begins at 11:30 a.m. and the program will begin at noon. To make a lunch reservation, contact Hollie Cook at 865-523-8008 or hcook@knoxheritage.org.
McClung Museum: Fish Forks and Fine Furnishings: Consumer Culture in the Gilded Age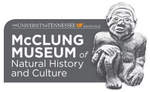 May 26, 2017 — August 27, 2017
Category: Exhibitions & visual art, Free event, History & heritage and Science & nature
During the American Gilded Age, which offered unprecedented access to consumer goods, what one owned or had the ability to buy became an important way to assert one's identity.
The American Gilded Age (1870–1900) was a time of rapid modernization and great expansion of the country's middle class. Though there was also vast income disparity, most Americans experienced an increase in overall quality of life.
Mass manufacturing permitted most people to buy a wealth of new goods, and the growth of trade and travel meant that Americans had new access to, and interest in, goods from around the world. Suddenly, even the middle class could emulate the wealthy, and identity was bound more than ever to what one owned.
From fish forks and fashionable dress, to furniture and fine china, this exhibition explores the seemingly superficial personal and household objects consumed during this era and how they were visible and powerful symbols of wealth, power, and social class. They speak not only to the great change changes occurring in America at the time, but to our continuing preoccupation today with the objects we choose to buy, wear, and display.
McClung Museum of Natural History and Culture, 1327 Circle Park Dr on the UT campus, Knoxville, TN 37996. Hours: Monday-Saturday, 9AM-5PM, Sunday, 1-5PM. Information: 865-974-2144, http://mcclungmuseum.utk.edu
Farragut Museum:Smithsonian Institution Traveling Exhibition
May 25, 2017 — August 27, 2017
10:00AM-4:30PM, M-F
Category: Free event, History & heritage and Science & nature
The Farragut Museum, located inside Farragut Town Hall, 11408 Municipal Center Drive, will host "Roots of Wisdom: Native Knowledge. Shared Science." May 25 through August 27. Museum hours are 10 a.m. to 4:30 p.m. Monday through Friday. Admission is free.
This exhibition focuses on local ecosystems that face serious environmental challenges. It addresses the innovative solutions found by Native communities that combine traditional knowledge with science, and features stories of ecological and cultural restoration from the Confederated Tribes of the Umatilla Indian Reservation, Tulalip Tribes, Eastern Band of Cherokee Indians, and Native Hawaiians.

"Roots of Wisdom: Native Knowledge. Shared Science." was developed, produced, and circulated by the Oregon Museum of Science and Industry, the Smithsonian Institution Traveling Exhibition Service, and the Smithsonian's National Museum of the American Indian. The exhibition was made possible with funds provided by the National Science Foundation. Four Native community partners graciously shared their restoration stories and their voices throughout the exhibition and the overall project.

For more information or to schedule a tour, contact Historic Resources Coordinator Julia Barham at jbarham@townoffarragut.org or 966-7057, or visit our website at www.townoffarragut.org/rootsofwisdom.
Farragut Museum, 11408 Municipal Center Dr, Farragut, TN 37934. Hours: M-F 10-4:30. Information: 865-966-7057, www.townoffarragut.org/museum.