Calendar of Events
Monday, May 20, 2013
WDVX: Blue Plate Special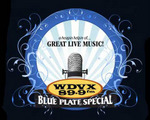 May 20, 2013 — December 31, 2013
12:00 PM
Category: Free event and Music
Monday 5/20 - Martin Phillips, Madonnas In A Field
Tuesday 5/21 - Pete Lanctot, Dismal Creek
Wednesday 5/22 - Laura Blackley & Marc Higgins, Shantal Leitner
Thursday 5/23 - Gage Sharp & Ashley Gillenwaters, Hudson K
Friday 5/24 - Big Jon and the Nationals, Carli & Julie Kennedy
Saturday 5/25 - Ian Campbell & the Recruits
Monday 5/27 - Alex Culbreath & the Dead Country Stars, Scott Mulvahill
Tuesday 5/28 - Sweet Jones, Rob Nance
Wednesday 5/29 - Snake Holler, Frank Bang & The Secret Stash
Thursday 5/30 - 10 String Symphony, Aoife O'Donovan
5/31 - Eddy Green
More performances to be announced!
See what's cookin' and come be part of the WDVX studio audience for a free live music show and live radio broadcast, Monday-Saturday. The Blue Plate Special is broadcast on the radio at 89.9 FM, 93.9 FM and 102.9, and online at www.wdvx.com as well as on mobile devices through Public Radio Exchange(iPhone app) and Tune-In Radio (Droid app). Free 2-hour visitor parking located next door to the Knoxville Visitor Center. One Vision Plaza, 301 S. Gay Street, Knoxville, TN 37902. For more information: 865-544-1029; www.wdvx.com
WDVX: Tennessee Shines Radio Show
May 20, 2013 — June 24, 2013
7:00 PM
Category: Music
May 20: Joy Kills Sorrow + Sarah Morgan (country/folk band JoyKillsSorrow.com + 2012 National Mountain Dulcimer Champion, http://www.sarahmorganmusic.webs.com/)
May 27: Chip Taylor (songwriter of Angel of the Morning and Wild Thing returns to Tennessee Shines after a sold-out show last May. His new CD will be out in May. TrainWreckRecords.com)
June 3: The Skipperdees (folk duo currently in Athens, GA, originally from Oak Ridge) http://www.theskipperdees.com
June 10: Nora Jane Struthers & the Party Line + Bonnie Whitmore with Some Dark Holler + Craig Havighurst (NJS's new CD, Carnival, is making waves; www.norajanestruthers.com; Bonnie is a folk/country Americana songwriter + Nashville's Craig Havighurst will read form his book Air Castle of the South: WSM and the Making of Music City.)
June 17: TBA
June 24: Kim Richey + David Clifton
(American singer-songwriter with a new CD http://www.kimrichey.com/ + British guitarist/songwriter who has performed with Tanita Tikaram and Julia Fordham, and now lives in Knoxville -- http://www.littleroom.com/artists/david-clifton/)
Tennessee Shines is a weekly radio show on WDVX FM hosted by Bob Deck and Paige Travis on the stage of the Knoxville Visitor Center Mondays at 7pm and broadcast live on WDVX FM and WDVX.com. Tickets are $10, free for students with valid ID and children ages 14 and under. Tickets are available in advance at the WDVX Blue Plate Special, noon weekdays and Saturdays at the Knoxville Visitor Center, or at the door beginning at 6 p.m. on the night of the show. http://www.tennesseeshines.com
Dollywood's Imagination Playhouse at the Knox County Public Library
May 20, 2013 — May 24, 2013
Category: Dance, Free event, Kids & family, Literature & readings and Music
One Cool Friend by Toni Buzzeo is the delightful story of a boy who befriends a penguin, and it's coming to life through song and dance at the Children's Festival of Reading. It will then tour 10 branches of the Knox County Public Library system. Dollywood has taken the book, which is part of the Imagination Library collection, and set it to song and dance. One of the songs was written by Dolly herself. Following the Library tour the show, which is presented by the Penguin Players, will play at Dollywood from June 14 - August 4.
The public is invited to watch as well-mannered Elliot visits the aquarium with his distracted father, and politely asks whether he can have a penguin — then proceeds to remove one from the penguin pool to his backpack! One Cool Friend kicks off the Children's Festival of Reading on May 18 at 10:00 a.m. in World's Fair Park.
The free performances will tour the following branch libraries:
Karns May 20 at 11:00 a.m.
North Knoxville May 20 at 4:00 p.m.
Murphy May 21 at 10:30 a.m.
Farragut May 21 at 4:00 p.m.
Sequoyah May 22 at 11:00 a.m.
Howard Pinkston May 22 at 3:00 p.m.
Carter May 23 at 10:30 a.m.
South Knoxville May 23 at 3:30 p.m.
Powell May 24 at 10:30 a.m.
Fountain City May 24 at 2:00 p.m.
One Cool Friend is part of on-going summer programs at the Library to encourage summer reading. The line up of programs across the Knox County Public Library system includes Wee Labs with the East Tennessee Discovery Center, Amazingly Awesome Science with Dr. Al Hazari, and Titanic's 1st Class Maid Jodi with child author Luke Copas. Additionally, Magician Michael Messing, the Knoxville Zoo's Zoomobile, and Storyteller David Claunch will appear at every library in the system. In late May and June, the Tennessee Stage Company takes the stage for the second year with its popular Shakespeare for Kids programs as they celebrate Twelfth Night.
A full schedule of events is available online at www.knoxlib.org.
Tennessee Theatre: The Price is Right

Category: Festivals & special events and Theatre
The Price is Right Live! is the hit interactive stage show that gives contestants pulled right from the audience the chance to "Come On Down" to win appliances, vacations and even new cars by playing classic games from television's longest running and most popular game show. From Plinko to Cliffhangers to the Big Wheel, all the favorite games are played just like the TV show! Don't miss your chance to win big at the Tennessee Theatre!
Tennessee Theatre, 604 S. Gay Street, Knoxville, TN 37902. For information: 865-684-1200, www.tennesseetheatre.com. For tickets: 865-684-1200, 865-656-4444, www.knoxvilletickets.com
McClung Museum of Natural History and Culture: Stroller Tour
May 20, 2013
10:00-11:00 AM
Category: Exhibitions & visual art, Free event, History & heritage and Kids & family
A free 30 minute docent led tour for parents/caregivers accompanied by babies and toddlers. The tours are designed for adults, but welcome little ones. Guests are encouraged to stay longer than the tour and walk through other museum galleries or browse the museum's gift shop. Registration is free, but required.
Civil War: The Battle of Ft. Sanders
Free with registration required at: http://mcclungmuseumstrollertour.eventbrite.com
McClung Museum of Natural History and Culture, 1327 Circle Park Dr on the UT campus, Knoxville, TN 37996. Hours: Monday-Saturday, 9AM-5PM; Sunday, 1-5PM. Information: 865-974-2144, http://mcclungmuseum.utk.edu
Exhibition by Leann Vineyard Cooper
May 17, 2013 — June 30, 2013
Category: Exhibitions & visual art
Songs, the Heart, and Bee's Knees - featuring graphite, watercolors, graphitint pencils, vintage linens, up-cycled distressed mirror
Join us for a wine and cheese reception on May 17 at 7:00 PM, AND in honor of the Biscuit Festival, we will also have strawberry biscuit shortcakes! Leann's works are visual interpretations of lyrics, yearnings of the heart, and sweet moments in nature. After spending over 20 years as a full-time mom for three children, Leann returned to her love for drawing and watercolor. She discovered that her talent was not lost but just on standby waiting until the time was right for her to sharpen a few pencils and begin marks of faith and hope on a fresh page.
website: www.leannvineyardcooper.com
facebook: https://www.facebook.com/LeannsArt
etsy: https://www.etsy.com/shop/leannvc
Viewings also available by appt. through late June. 865-368-5778
The SHAREhouse, 1640 Jefferson Ave., Knoxville, TN 37917
Plateau Creative Arts Center: Works by Jessica Schatz
May 16, 2013 — June 12, 2013
Category: Exhibitions & visual art and Free event
Jessica Schatz, the Artist of the Month at the Plateau Creative Arts Center, has been an artist for as long as she can remember. She also remains busy as an interior designer, specializing in staging and new construction, and is also a pet portrait photographer. She also donates her photography services, photographing homeless pets in order to help them find homes. Jessica and husband, Robert, recently became Fairfield Glade residents. They have been coming to Fairfield Glade for 27 years, as she has family in the area. Originally from the Midwest, she once ran a Gallery called "Widow's Weeds" that featured both Civil War reenactment photography and more contemporary art. . Perhaps the most fascinating part of her artistic history is how she became the only woman at that time to photograph camp life and battle reinactments of the Civil War. "I hate war , but I love history, and the genre of photography of that time". So when she was asked to record the reenactments by Prince William County, VA (site of two Civil War Battles) Jessica said "yes".
Jessica first became interested in photography by using her mother's point-and-shoot camera as a young girl. A friend of hers, who had been badly injured in the war in Viet Nam, gave her her first Nikon,as he was unable to use it. She has been a professional photographer, specializing in hand-painted black-and-white photography, until recently. She also enjoys another near "lost art" painting floor cloths, the precursor to linoleum. Thomas Jefferson had a floor cloth as a rug. Itinerant artists used to go house-to-house, painting the floor cloths. They can also be utilized as placemats, table runners, and as wall hangings (one is hanging in her exhibit).
Plateau Creative Arts Center, 451 Lakeview Drive, Fairfield Glade, TN 38558. Hours: M-F 9AM-4PM; Saturday-Sunday 1-4PM. Information: 931-707-7249; www.artguildfairfieldglade.net
McMinn County Living Heritage Museum: Exhibit by Sandy Brown
May 14, 2013 — July 15, 2013
Category: Exhibitions & visual art
In an extraordinary exhibit, Lens and Brush: The Visual Textures of East Tennessee, acclaimed watercolor artist Sandy Brown elucidates illusions of texture in Jim Caldwell's breathtaking photographs of the environs of eastern Tennessee. Two artists, working in different mediums; one artist finding inspiration through his love of the land and the other artist finding inspiration in her ability to reinterpret texture, structure and light transitions.
An opening reception for the exhibit will be held on Tuesday, May 14th from 1:00 to 3:00 PM.
522 West Madison Avenue, Athens, TN 37303. Information: 423-745-0329
Arrowmont School of Arts and Crafts: Instructor Exhibition
May 11, 2013 — August 17, 2013
Category: Exhibitions & visual art and Free event
Arrowmont School of Arts and Crafts is famous as an international destination for all manner of aspiring artists and craftspersons—students seeking exposure, guidance, or simply practice at media ranging from jewelry-making to glass-fusing. The public tends to be less aware that Arrowmont's historic campus is also a powerful attraction for a large, diverse and enormously talented family of instructors. For professional artists, instruction at Arrowmont offers an opportunity to ply their livelihood, certainly. But they also have the chance to demonstrate, discuss and refine their techniques in modern studios where lively conversation and exchange of knowledge enrich the entire group. For teaching academics, Arrowmont provides incentive to winnow away at a semester's worth of teaching and determine what is essential and possible for a weeklong workshop. Both students and instructors say it's common to cover more than a semester's worth of collegiate art education during the span of one Arrowmont workshop.
Stefanie Gerber Darr joined Arrowmont as Gallery Director in April, following work at prestigious institutions in Denver and Nashville. "Every summer Arrowmont invites over one hundred artist instructors to share their talents and teach classes to students from all over the country," says Darr. "They are conduits of creativity that help make Arrowmont an educational, expressive, and inspiring force in the world of arts and crafts. In addition to showcasing their abilities through the classes offered, the annual instructor exhibition presents the artist instructors' work to the students as well as the greater community and visitors to the region. Representing diverse styles and media, the exhibition complements the educational experience of the individuals attending class sessions while also signifying the trajectory of contemporary craft."
Arrowmont School of Arts and Crafts, 556 Parkway, Gatlinburg, TN 37738. Information: 865-436-5860, www.arrowmont.org
Clayton Center for the Arts: Three Femmes Exhibition
May 10, 2013 — May 31, 2013
Category: Exhibitions & visual art and Free event
May 10, 6:00-8:00 PM: Opening Reception for Three Femmes Exhibition
Elaine Barnes, Annamaria Gundlach, and Lauren Karnitz will present their works through the end of May at the Clayton Center for the Arts in Maryville. The exhibition is titled "Femmes and Forms".
Clayton Center for the Arts: 502 East Lamar Alexander Parkway, Maryville, TN 37804. Info: 865-981-8590, www.ClaytonArtsCenter.com
Young at HeART Art Group Exhibition
May 6, 2013 — May 20, 2013
Category: Exhibitions & visual art and Free event
The senior adult Young at HeART art group from Marietta Cumberland Presbyterian Church will display their work in May at the Farragut Town Hall. A public reception will be held on Sunday, May 19.
View the exhibition during regular Town Hall hours: Monday through Friday, 8 a.m. to 5 p.m.
Public Reception: Sunday, May 19 - 2 to 3 p.m.
The art show and reception are free and open to the public.
At Farragut Town Hall, 11408 Municipal Center Drive (across from the Farragut Branch Post Office). For more information, please contact Lauren Cox, special events and program coordinator, at lauren.cox@townoffarragut.org or 966-7057.
Art Guild at Fairfield Glade: Stormy Weather Exhibition
May 5, 2013 — June 13, 2013
Category: Exhibitions & visual art and Free event
May's themed art exhibit is titled "Stormy Weather". Visit us to view how members of the Art Guild at Fairfield Glade interpret this theme.
Once a month, the PCAC gallery exhibit changes, so monthly visits are advantageous for viewing quality artwork, including watercolor, oil, acrylic, pastels, colored pencil, photography, mixed media, and 3-D work, including pottery, sculpture, and jewelry. The gallery is also a perfect place to shop for one-of-a-kind decorations or gifts at reasonable prices. PCAC visitors not only enjoy the latest gallery exhibit, they also learn about the many art classes and day trips offered by the Art Guild. In addition, visitors often get to see a class in progress or watch the open painting, beading, or figure drawing sessions taking place in the art studio.
Art Guild at Fairfield Glade at the Plateau Creative Arts Center, 451 Lakeview Drive, Fairfield Glade, TN 38558. Hours: M-F 9AM-4PM; Saturday-Sunday 1-4PM. Information: 931-707-7249; www.artguildfairfieldglade.net