Calendar of Events
Monday, December 22, 2014
Tennessee Theatre: Mannheim Steamroller Christmas by Chip Davis
December 22, 2014
7:30 PM
Category: Music
MANNHEIM STEAMROLLER CHRISTMAS by Chip Davis has been America's favorite holiday tradition and this year marks the 30th Anniversary of the group's annual tour. Grammy Award winner Chip Davis has created a show that features the beloved Christmas music of Mannheim Steamroller along with dazzling multimedia effects performed in an intimate setting. The spirit of the season comes alive with the signature sound of Mannheim Steamroller music. Join in the 30th Anniversary celebration of Mannheim Steamroller Christmas. Don't miss this ultimate holiday tradition from the #1 Christmas music artist in history!
Tennessee Theatre, 604 S. Gay Street, Knoxville, TN 37902. For information/tickets: 865-684-1200, www.tennesseetheatre.com, www.ticketmaster.com
WDVX: Tennessee Shines Radio Show: Red Shoes & Rosin + poet Dawn Coppock
December 22, 2014
7:00 PM
Category: Music
December 22: Red Shoes & Rosin + poet Dawn Coppock
Knoxville stringband Red Shoes & Rosin perform songs from their brand-new CD.
Tennessee Shines is a weekly radio show performed live for an in-studio audience at the Knoxville Visitor Center Mondays at 7 p.m. and broadcast live on WDVX 89.9 and 102.9 FM and WDVX.com. Hosts Bob Deck and Paige Travis welcome an array of folk, country, bluegrass and Americana musical guests performing from 7-8 p.m. with bonus songs for the in-studio audience from 8-8:30 p.m. Poets, authors and other readers of a literary bent present their works in the regular Wordplay segment of the show. We are proud to serve Woodruff Brewing Company beer. Tickets are $10, free for students with valid ID and children ages 14 and under. Tickets are available in advance online at BrownpaperTickets.com, during the WDVX Blue Plate Special weekdays from noon to 1 p.m. at the Knoxville Visitor Center, by emailing info@wdvx.com, or at the door beginning at 6 p.m. on the night of the show. For more information, visit WDVX.com.
Burlington Public Library: Metamorphosis: Angel-Phoenix Figures
December 11, 2014 — January 31, 2015
Reception, Dec. 11, 4:00-8:00PM
Category: Exhibitions & visual art and Free event
Metamorphosis: Angel-Phoenix Figures
Art By Theophilus
The Literacy Imperative Arts Reception:
December 11, 2014 4PM to 8PM
Exhibit: December 11, 2014 to January 31, 2015
Burlington Library, 4614 Asheville Hwy, Knoxville, TN 37914
(865) 525-5431
American Museum of Science and Energy: STEAM Out Hunger Exhibit
December 7, 2014 — January 5, 2015
Category: Exhibitions & visual art and Science & nature
Grade-school students from the Stanford Eisenberg Knoxville Jewish Day School are building a canned food sculpture, featuring the school's name and ram mascot, for a "STEAM Out Hunger". The project is inspired by Knoxville's Holiday Canstruction® event hosted by Messer Construction. ConAgra and Bush Beans donated the 1,440 canned-food building blocks for the sculpture. The Besmann Family Fund for Social Justice and Spiritual Enrichment of the Knoxville Jewish Community Family of Funds also provided support.
American Museum of Science & Energy, 300 S. Tulane Avenue, Oak Ridge, TN 37830. Hours: Monday-Saturday 9AM-5PM, Sunday 1-5PM. Information: 865-576-3200, www.amse.org
Christmas in Old Appalachia: Museum of Appalachia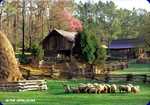 December 6, 2014 — December 24, 2014
Category: Festivals & special events, History & heritage, Kids & family and Penny Performances
At the Museum of Appalachia, log cabins and barns nestle at the base of a hill. Smoke rises lazily from chimneys, signaling warmth from within on a chilly December day. Beginning on December 6th, the Museum will celebrate Christmas in Old Appalachia, a festive winter celebration that captures the beauty and simplicity of an old-fashioned Christmas. Inside the cabins, simple cedar Christmas trees are draped with paper chains, popcorn strings, sweet gum, and sycamore balls. In the Dan'l Boone Cabin, a dormant sapling wears cotton "snow" and scraps of cloth for bows. Pine clippings, magnolia leaves and holly berries line the mantels above the fireplaces. The Little Tater Valley School House is adorned with hand-made ornaments made by local students. Tattered or well-worn quilts are laid under the trees; topped with carved wooden animals, tin horns, rag dolls, wagons, and spinning tops—all of which were presents found early on Christmas morning. Children often opened their Christmas packages to find practical gifts, such as new shoes or books, purchased from a mail order catalog; and relished in the joy of receiving something as simple as an orange or a peppermint stick.
For December 6th-7th the Museum has planned a variety of charming holiday festivities to kick off its Christmas season. Such fun activities include: craftsmen demonstrating traditional arts, warm fires surrounded by traditional porch musicians playing seasonal music, local authors signing their books, and a delicious home-cooked dinner at the Museum's restaurant. Continuing through December 24th, special holiday exhibits include the children's display in the Hall of Fame, with toys and furniture made by loving parents and grandparents, and Granny Irwin's traditional Christmas Crazy Quilt—brought out only on special or festive occasions.
Browse the regional, 'American made', hand-crafted gifts and books in the Shop at the Museum for a special Christmas gift. Enjoy hot, southern country-style lunches, served daily from 11 a.m. to 2 p.m. in the Museum restaurant. Home-made cakes, pies, cookies, and other holiday treats are available all day, or can be made special to order for Christmas gatherings.
December hours are 8:30 a.m. to 5:00 p.m. daily (8:30 a.m.-3pm on Christmas Eve and closed Christmas Day). The Museum, a Smithsonian Affiliate and a not-for-profit organization, is located 16 miles North of Knoxville, one mile East of I-75, Exit 122. Information: 865-494-7680, www.museumofappalachia.org
HoLa Hora Latina: Susana Esrequis' Holiday paintings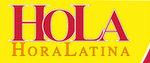 December 5, 2014 — January 15, 2015
Category: Exhibitions & visual art and Free event
Presented by HoLa Hora Latina
First Friday at the Emporium Center-Casa HoLa • December 5, 5:00 - 9:00 PM
A series of paintings by Argentine native Susana Esrequis. Selected by UNICEF to design their Christmas cards and postcards, Susana has also contributed her work to other non-profit organizations including the Argentinean Children Patronage, Argentinean Association of University Women, Knoxville Opera Guild, and HoLa Hora Latina.
Susana Esrequis through her clear-green eyes sees the world with the confidence of a person who does not despair, even when everything leads to uneasiness. She sees with the eyes poorly called "the child", but it is the glance of a person who did not forget the depth of the nature message, this unique gift always affronted, than now more than ever a lot of us are trying to protect for the man, that mistreated son of God. - Albino Dieguez Videla, Internatinoal Asociation of Art Critics
HoLa Hora Latina, 100 S. Gay Street, Suite 112, Knoxville, TN 37902. Gallery hours: Monday to Friday 10 am to 5 pm. Information: 865-335-3358, www.holaknoxville.org, www.holafestival.org
UT Downtown Gallery: "Of A Feather"
December 5, 2014 — January 15, 2015
Category: Exhibitions & visual art and Free event
Artists throughout history have found inspiration in the form of birds. Man imbued birds with mystical and religious meaning due to their fascinating ability to exist in two worlds – the earthly world, and the sky, or heavenly realm. Drawn primarily from the Ewing Gallery's permanent collection, Of a Feather features works from historic and contemporary artists who represent birds in a diverse assortment of styles. While some artists approach the bird as studies of simplified form others utilize strategies of space and distance to take a more poetic or analytical look at the economic and social issues attached to birds. Works range from hyperrealism to whimsical to abstract. This exhibition incorporates a number of artists of artists from New York and Chicago including Keith Haring, Michael Kirk, Keith Long, Diane Churchill, and Laurie Hogin; regional artists, Howard Finster, Todd Johnson, Kelly Hider, Heather Middlebrooks, Gary Monroe, and Richard Jolley, as well as distinguished faculty from the University of Tennessee – Jered Sprecher, Diane Fox, Beauvais Lyons, Marcia Goldenstein, Don Kurka, Bill Kennedy, Clark Stewart, and Byron McKeeby. The artworks on display consider themes of scientific inquiry, symbolism, environmental consciousness, and the rituals of birding, among others. The exhibition is organized by Sam Yates, Director and Curator of the Ewing Gallery, in tribute to the late artist, Ellen Lanyon, who often used images of birds in her art. Two of her works will be on display. Of a Feather will be on view at UT's Downtown Gallery December 5, 2014 through January 15, 2015.
UT Downtown Gallery, 106 S. Gay St, Knoxville, TN 37902. Hours: Wednesday-Friday: 11AM - 6PM, Saturday: 10AM - 3PM. Information: 865-673-0802, http://web.utk.edu/~downtown
Bennett Galleries & Company: Works by Marga McBride & Charlotte Terrell
December 5, 2014 — January 3, 2015
Category: Exhibitions & visual art and Free event
New narrative sculpture & paintings ("Every Picture Tells a Story") by Marga McBride, and new paintings by Charlotte Terrell. Opening reception & Holiday Open House Dec 7, 5-8 PM.
Bennett Galleries & Company, 5308 Kingston Pike, Knoxville, TN 37919. Info: 865-584-6791; www.bennettgalleries.com
Knoxville Watercolor Society: New Exhibit at the Rose Center
December 5, 2014 — January 3, 2015
Category: Exhibitions & visual art and Free event
The Knoxville Watercolor Society will exhibit recent works from its members at the Rose Center, 442 W. Second North St., Morristown, TN 37814.
Opening reception will be Friday, December 5th from 6:00 pm. to 8:00 pm, in conjunction with the Rose Center's Holiday Open House. Regular hours for the Rose Center are M-F, 9 am. to 5 pm., and Thursday until 7:30 pm.

For more information about the Knoxville Watercolor Society, membership requirements and to view members' art work go to www.knxvillewatercolorsociety.com.
Bliss Home: Works by Stacey Fletcher
December 5, 2014 — December 31, 2014
Opening Reception Dec. 5, 6:00 PM - 9:00 PM
Category: Exhibitions & visual art and Free event
Where: Bliss Home 29 Market Square Knoxville, TN 37902
When: Friday, December 5th, 2014 through the end of the month.
Opening Reception: Friday, December 5th, 2014 6pm to 9pm
Admission: Free

Facebook: Bliss Home • Stacey Fletcher

Artist's Website: www.staceyfletcher.com

Bliss Home is pleased to present the latest works by Knoxville artist, Stacey Fletcher, for December's First Friday. Bliss Home, located at 29 Market Square, will host an opening reception on Friday, December 5th from 6pm to 9pm. Complimentary Steamboat Sandwiches will be provided and Stacey's art will be featured for the month of December.

Stacey Fletcher received a Master of Fine Arts degree in Painting and Drawing from The University of Tennessee in 2003, and a Bachelor of Fine Arts degree from Valdosta State University in 2000. She has exhibited nationally and internationally in many individual, group, and juried exhibitions. This includes being awarded the honor of participating in the 2005 Pienkow International Artist Workshop in Poland. Stacey has taught for The University of Tennessee since 2000 as a graduate assistant, an assistant professor, as well as through the personal and professional extended education program. She lives, paints, and teaches in Knoxville, TN.

As a cathartic painter, Stacey's work expresses emotions and frustrations that would otherwise be hard to express verbally. They seem abstract at first glace to the viewer, but have some sense of childhood imagery disguised among the colorful layers. Her work is fresh with vibrant lively colors, with layered metaphors of herself and others contrasted with the chaotic approach of the energetic marks.
The District Gallery: "Chasing Light: New Works by Kathie Odom"
December 5, 2014 — December 30, 2014
Opening Reception Dec. 5, 5:00 PM - 8:00 PM
Category: Exhibitions & visual art
The District Gallery presents: Chasing Light: New Works by Kathie Odom
December 5-30, 2014
Opening Reception: Friday, December 5, 5-8 p.m.
The District Gallery is pleased to present Chasing Light: New Works by Kathie Odom. For her second solo show at The District Gallery, Odom has created a collection of work fitting for the season. A true impressionist, she follows in the plein-air (in the open air) painting tradition dating back to the seventeenth century.
Chasing Light showcases Odom's ability to see an ever-changing nature and preserve meaningful details in time and space – to create a mood. Her works are timeless interpretations of the atmosphere, light and story in the landscape around her. Odom leaves the anatomy of her work exposed and allows light to diffuse translucently from the first wash to the thicker oils, revealing different layers and textures. Subtle detailing coupled with loose brush strokes invite the viewer beneath into an aliveness not so apparent on the surface.
According to Odom, "plein-air painters feel like they are chasing the light. When I walk upon a beautiful landscape to paint where the light is perfect, I have to rely upon my memory to paint that moment, because the light changes so fast… At times, on a day full of clouds, there are awesome moments when the sun peeks through the clouds and onto the land. Although quite difficult to capture that moment on canvas, sometimes magic happens."
Join us for a Holiday Open House and opening reception for Chasing Light on Friday, December 5 from 5-8 p.m. Meet the artist, enjoy holiday cuisine from Gourmet's Market, and live music by Michael Whitesides.
Chasing Light is on display in the gallery through December 30.
Art Market Gallery: Works by Marjorie Horne and Nelson Ziegler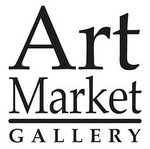 December 5, 2014 — December 28, 2014
Opening Reception Dec. 5, 5:30-9:00PM
Category: Exhibitions & visual art, Fine Crafts and Free event
An opening reception for the Art Market Gallery's December featured artists, painter Marjorie Horne and wood turner Nelson Ziegler, will be held from 5:30 to 9 p.m., Dec. 5, during Downtown Knoxville's monthly First Friday Art Walk, with complimentary refreshments and Christmas and classical music performed by cellists Carla and Bethany Brown.

Marjorie Spalding Horne, of Knoxville, a signature member of the Colored Pencil Society of America in both colored pencil and mixed media, has had many solo shows and purchase and merit awards.
Nelson Ziegler, of Sevierville, has been wood turning for 20 years, although he has worked in the medium his entire life and is a longtime member of The American Association of Wood Turners.
The featured artists' exhibit will run through Dec. 28. In addition, sales of selected works by other gallery artists will benefit The Community School of the Arts during December.

Owned and operated by 62 professional regional artists, the Art Market Gallery, at 422 South Gay St., is a few doors from Mast General Store and next to Downtown Grill & Brewery. December hours are 11 a.m. to 6 p.m., Monday through Saturday; 11 a.m. to 9 p.m. Friday; 1 to 5 p.m., Sunday. The gallery is wheelchair accessible, and parking in nearby public garages and on the street is free on weekends and after 6 p.m. weekdays. For more information, call 865-525-5265, or visit artmarketgallery.net, or facebook.com/Art.Market.Gallery.