Calendar of Events
Friday, October 14, 2016
Crescent Bend House & Garden: Tours
January 1, 2015 — December 31, 2016
Category: History & heritage and Kids & family
Beginning in 1832, Drury Paine Armstrong (1799-1856) established a gentleman's farm and house for his wife and family just west of downtown Knoxville. He named the farm "Crescent Bend" for the commanding view of a majestic crescent bend of the Holston River, now called the Tennessee River. The Armstrongs moved into their new home on October 7th, 1834. Drury Armstrong's Crescent Bend started with 600 acres of land on the north side of the river, and a within few years he acquired another 300 acres on the south side. He owned several other tracts of land in and around Knoxville, upon one of which a famous Civil War battle, the Battle of Armstrong's Hill, would be fought. During the Civil War, the house was used by both Union and Confederate Armies as a command center and hospital. Thousands of soldiers encamped and fought skirmishes on Crescent Bend farmland. Originally the Union Army controlled Crescent Bend and built an earthen fortification around the house; began on the western side of the house, wrapped around the back of the house, and connected with Kingston Pike on the east. This defensive earthen trench work gave the Union Army a commanding view of the river and the pike leading into town.
Tours: Wednesday-Friday: 10am – 4pm and Saturday: 10am – 2pm
Address: 2728 Kingston Pike, Knoxville, TN 37919. Phone: 865-637-3163.
Website: www.crescentbend.com
Blount Mansion Tours
January 1, 2015 — December 31, 2016
Category: History & heritage and Kids & family
This "house with many eyes" witnessed the birth and growth of Knoxville, housed Tennessee governors and prominent families, and later became slum housing on the Knoxville riverfront. It was saved by early preservationists from destruction, and survives today to tell the stories of Tennessee's birth and growth. William Blount, a signer of the United State Constitution, chose to build his home in Knoxville after signing the Treaty of the Holston on the banks of the Holston River just a few hundred yards away from the Mansion's location. Blount's Knoxville mansion would serve as the territorial capitol, as well as a family home. The care in construction, and the size and shape of Blount Mansion reflects Blount's position as a Territorial Governor, head of a prominent family, and influential land speculator.
200 West Hill Avenue, Knoxville, TN 37902. Phone: 865-525-2375
Tours: Tuesday – Friday: 10am – 5pm (last tour leaves at 4pm); Saturday 10am – 2pm (last tour leaves at 1pm)
Website: www.blountmansion.org
Blog: blountmansion.blogspot.com
WDVX: Blue Plate Special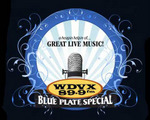 January 1, 2014 — December 31, 2016
12:00 PM
Category: Free event and Music
Just like at your favorite meat n' three, the WDVX Blue Plate Special® is served up piping hot. This fresh and free daily helping of live music during the lunchtime hour that features performers from all over the world and right here in Knoxville has put WDVX on the map as East Tennessee's Own community supported radio.
The WDVX Blue Plate Special® is a live performance radio show held at noon, with your host Red Hickey Monday through Friday and Doug Lauderdale on Saturday, at the WDVX studio inside the Knoxville Visitor Center. It's always free to join in so please don't be shy. Make yourself at home as part of the WDVX family. From blues to bluegrass, country to Celtic, folk to funk, rockabilly to hillbilly, local to international, it all part of the live music experience on the WDVX Blue Plate Special. You're welcome to bring your lunch.
Previous performing artists include Bela Fleck and the Flecktones, The Avett Brothers, Old Crowe Medicine Show, Doyle Lawson and Quicksilver, Ricky Skaggs and Kentucky Thunder, Jim Lauderdale, Marty Stuart, Nickel Creek, Red Stick Ramblers, Rodney Crowell, String Cheese Incident, The Del McCoury Band, Tim O'Brien, Yonder Mountain String Band, David Grisman, Claire Lynch Band, Brett Dennen, Tommy Emmanuel, Uncle Earl, The Infamous Stringdusters, the Jerry Douglas Band, Joan Osborne, John Oats, Mary Gauthier, Darrell Scott, and many many more! There's plenty of great music to go around! http://wdvx.com/program/blue-plate-special/
Free 2-hour visitor parking located next door to the Knoxville Visitor Center. One Vision Plaza, 301 S. Gay Street, Knoxville, TN 37902. Info: 865-544-1029, http://www.wdvx.com